"NBA chief Silver stands firm as China backlash mounts"
"The tweet last Friday by Houston Rockets General Manager Daryl Morey supporting pro-democracy protests in Hong Kong has infuriated Chinese fans and led to broadcasters and (Chinese) sponsors severing ties with the NBA…"
https://sports.yahoo.com/china-punishes-nba-crisis-over-democracy-tweet-deepens-091952657–nba.html
"China Warns Brands to Accept Communism, Freedom of Speech 'Ridiculous'"
"The Chinese government newspaper Global Times warned "global brands" to "make their members speak cautiously" on Chinese political issues Monday in response to an ongoing controversy following an NBA executive lending support to pro-democracy protests in Hong Kong…
Following condemnation from the Communist Party and its puppets in Chinese society, social media, and the NBA, the NBA itself issued a statement also condemning Morey for simply challenging the dogma of a country currently maintaining a million-strong concentration camp population. The NBA has established a training camp in the same province as the concentration camps…"
https://www.breitbart.com/asia/2019/10/08/china-warns-brands-to-accept-communism-freedom-of-speech-ridiculous/
"ESPN Caves to China, Silences Hosts on Hong Kong Protests"
"ESPN warned hosts to avoid any political discussion of the relationship between China and Hong Kong, as the NBA continues trying to make amends with the communist nation after Rockets GM Daryl Morey tweeted support for Hong Kong's pro-democracy movement on Friday.
According to a report from Deadspin, ESPN's Senior News Director Chuck Salituro sent a memo to all staffers telling them to avoid talking about the political situation between Hong Kong and mainland China. Deadspin was also told that senior ESPN executives were monitoring all shows as they discussed the news of the day…"
https://www.breitbart.com/sports/2019/10/08/espn-caves-to-china-silences-hosts-hong-kong-protests/
So China owns the NBA now?
China Threatens Apple. Says It's guided by Hong Kong Thugs
"Is Apple guiding Hong Kong thugs?" the Chinese People's Daily newspaper wondered in an op-ed published on Wednesday. Beijing tore into the trillion-dollar company for offering HKmap.live, a map app that allows users to report and track police activity, warning the app "facilitates illegal behavior" and that Apple is hurting its reputation among Chinese consumers by "mixing business with politics and commercial activity with illegal activities."
"This recklessness will cause much trouble for Apple," the People's Daily declared, advising the tech firm to "think deeply."…"
https://www.rt.com/news/470574-apple-hong-kong-protests-map/
"Sixers Fan Says He Was Kicked Out of Preseason Game After Showing Support for Hong Kong"
"As the NBA continues to deal with the fallout from an executive's controversial tweet, a man says he and his wife were kicked out of a Philadelphia 76ers game after showing their support for protesters in Hong Kong…"
"Sixers Fan Says He Was Kicked Out of Preseason Game After Showing Support for Hong Kong"
"Sports agents warn NBA players to avoid China talk as athletes, executives walk 'fine line'"
The NBA stands to lose billions of dollars in revenue…
All of the NBA's partners in China have ended or suspended their relationships with the league.
Although the NBA says it won't censor team executives or players from speaking out, the swift and angry response from China has everyone on edge.
https://www.cnbc.com/2019/10/10/sports-agents-warn-players-to-avoid-china-talk-as-nba-walks-fine-line.html
"Apple bows to Beijing, removes app used by Hong Kong protesters"
"American technology giant Apple Inc. gave in this week to Chinese authorities, permanently removing from the App Store a smartphone application primarily used by Hong Kong protesters.
According to The Verge, the company announced its decision to ban HKmap.live on Thursday — but not before changing its mind about the app on two separate occasions…"
Apple bows to Beijing, removes app used by Hong Kong protesters
"'Free Hong Kong' signs confiscated at Wizards basketball game"
"Several people at a Washington Wizards basketball game… said their signs supporting anti-government demonstrators in Hong Kong and protesting the treatment of an ethnic group in China were confiscated.
The action follows a similar incident Tuesday when two fans were kicked out of a Philadelphia 76ers game because they carried small, handmade signs supporting anti-government demonstrators in Hong Kong…."
'Free Hong Kong' signs confiscated at Wizards basketball game
CENSORSHIP: "CNN Reporter Shut Down for Asking NBA Stars About China Scandal"
"A CNN reporter on Thursday was cut off by a Houston Rockets media officer while asking Houston Rockets stars James Harden and Russell Westbrook about the ongoing free speech furor surrounding China…"
https://www.breitbart.com/the-media/2019/10/10/watch-cnn-reporter-shut-down-for-asking-nba-stars-about-china-scandal/
"What's going on with Blizzard esports, Blitzchung, and China?"
It all started on Monday when pro player Chung "Blitzchung" Ng Wai used an appearance on an official stream to make a political statement. Blitzchung, who had been competing in the Hearthstone Grandmasters tournament, appeared on the Taiwanese stream wearing a gas mask and said "Liberate Hong Kong. Revolution of our age!"…
Shortly after Blitzchung's appearance on the stream – the official version of which was quickly removed – Blizzard took its first action…
As punishment, Blitzchung was removed from the Hearthstone Grandmasters competition. He also had to forfeit his prize money for the current season, including anything he'd won so far. Blizzard also imposed on him a 12-month ban from participating in Hearthstone esports. Lastly, the company confirmed that it would no longer work with the two men who were interviewing Blitzchung when he delivered his protest action.
https://mashable.com/article/blizzard-hearthstone-blitzchung-ban-hong-kong-protest/
"U.S. Lawmakers Shame Video Game Giant Blizzard for Bowing to China Censorship"
"World of Warcraft and Hearthstone developer Blizzard faced harsh criticism for appeasing China from U.S senators on both sides of the aisle this week.
Republican senator Marco Rubio (Florida) and Democrat senator Ron Wyden (Oregon) both made their opinions of the embattled video game corporation known via Twitter on Tuesday…
The public has responded to this controversy in much the same way. As calls for a boycott spread like wildfire, Blizzard — of which communist-owned media conglomerate Tencent owns a 5% stake — continues to fall further from grace…"
https://www.breitbart.com/tech/2019/10/10/u-s-lawmakers-shame-video-game-giant-blizzard-for-bowing-to-china-censorship/?utm_source=wnd&utm_medium=wnd&utm_campaign=syndicated
"Taiwan leader rejects China's '1 country, 2 systems' offer"
"Taiwan's president rejected on Thursday a "one country, two systems" formula that Beijing has suggested could be used to unify the island and the mainland, saying such an arrangement had set Hong Kong "on the edge of disorder"…."
https://www.reuters.com/article/us-taiwan-anniversary-president/taiwan-leader-rejects-chinas-one-country-two-systems-offer-idUSKBN1WP0A4?utm_source=wnd&utm_medium=wnd&utm_campaign=syndicated
"Apple's loudest supporters turn against the company over Hong Kong"
"Last Thursday, after Apple banned the HKmap.live app, which allowed Hong Kong protestors to track (and avoid) massed riot police, well-known tech blogger and Apple developer John Gruber wrote, "I still haven't seen which local laws it violates, other than the unwritten law of pissing off Beijing." He added, "Capitulation is a bad look for Apple."…
Ben Lovejoy, another longtime Apple watcher, wrote for 9to5Mac on the same day last week that the company's "relationship with China is turning into a massive liability." Lovejoy detailed Apple's recent history of kowtowing to Chinese interests…"
https://www.naturalnews.com/2019-10-14-apples-supporters-turn-against-the-company.html
"'Crushed bodies and shattered bones': China's Xi Jinping threatens dissidents amid Hong Kong protests"
"Chinese President Xi Jinping raised the specter of a violent crackdown on protesters against the Communist government, as Beijing rebuffs international condemnation for human rights abuses.
"Anyone attempting to split China in any part of the country will end in crushed bodies and shattered bones," Xi said Sunday, per state-run media.
That warning was issued from Nepal, where thousands of Tibetan Buddhists have taken refuge from Chinese Communist rule. But the blanket threat is likely a message to the protesters in Hong Kong and Western-allied leaders of Taiwan, whom Chinese officials regard as "separatists" and advocates of "secessionism" from the mainland government…"
https://www.washingtonexaminer.com/policy/defense-national-security/crushed-bodies-and-shattered-bones-chinas-xi-jinping-threatens-dissidents-amid-hong-kong-protests
Hong Kong Chaos: "Protesters hurl petrol bombs at police station…"
"Masked activists threw Molotov cocktails at a police station during the latest anti-government demonstration in Hong Kong. Riot cops used tear gas to try to restore order to the city's besieged streets.
Footage released by Ruptly shows several protesters hurling petrol bombs over the fence around the Tsim Sha Sui police station, resulting in several small blazes around the compound. Police were quick to put out the fire, and deployed tear gas and water cannons in an attempt to disperse the mob…"
https://www.rt.com/news/471356-hong-kong-petrol-bombs-police-video/
"NBA Commissioner Adam Silver revealed on Thursday that the Chinese government insisted the league fire Houston Rockets general manager Daryl Morey over a now-deleted October 4 tweet supporting the protesters in Hong Kong, according to Time…"
China Secretly Ordered NBA Commissioner To Fire Rockets' GM Over Hong Kong Tweet
"Hong Kong Volunteers Document Extreme Police Brutality, Urge Journalists to Help"
"A Hong Kong group called Netizens Organizing Police Abuse Investigation Data (NOPAID) this week published an extensive report on the excessive use of force by police against protesters…
The bulk of the report consists of photos and videos documenting reported police abuses, with each incident classified by whether it violated the statutory guidelines on the use of police force, obstructed journalists, hindered medical assistance to the injured, or was conducted without the police displaying a proper warrant…"
https://www.breitbart.com/national-security/2019/10/17/exclusive-hong-kong-volunteers-document-extreme-police-brutality-urge-journalists-to-help/
"China Threatens to Retaliate If U.S. Enacts Hong Kong Bill"
"China threatened unspecified "strong countermeasures" if the U.S. Congress enacts legislation supporting Hong Kong protesters, in a sign of the deepening strain between the world's two largest economies as they attempt to seal a trade deal.
China's foreign ministry issued the warning Wednesday after the U.S. House passed a package of measures backing a pro-democracy movement that has rocked the former British colony for more than four months…"
https://news.yahoo.com/china-threatens-retaliate-u-passes-005012704.html
"Water cannon sprays mosque in Hong Kong"
"Hong Kong's beleaguered leader and police chief apologised on Monday to the local Islamic community after the entrance of the city's biggest mosque was sprayed with blue solution from a water cannon attempting to disperse anti-government protesters.
They said the soaking at Kowloon Mosque was an accident, with police later saying an aim of the operation had been to protect the site on Nathan Road…"
"Murder suspect whose case was catalyst for Hong Kong protests released'
"A murder suspect whose proposed deportation to Taiwan was a catalyst for massive anti-government protests in Hong Kong was released from prison Wednesday…
Months of increasingly violent pro-democracy demonstrations in the global financial hub were sparked by protests against an extradition law which would have allowed suspects to be sent to various destinations — including authoritarian mainland China…"
https://news.yahoo.com/murder-suspect-whose-case-catalyst-hong-kong-protests-053536641.html
"Chinese state TV keeps NBA opener off the air amid row"
"China's state television kept the NBA's season-opening games off the air on Wednesday in the latest fallout from a row over a team executive's support for pro-democracy protests Hong Kong.
The blackout added to an unusual start to the NBA season, as activists distributed t-shirts in support of Hong Kong pro-democracy protesters outside the arenas in Los Angeles and Toronto."
https://news.yahoo.com/china-row-looms-over-nba-season-openers-063007233–nba.html
"Fears Are Growing Among Mainland Chinese Living in Hong Kong"
"As Hong Kong's historic protests become increasingly violent, mainland Chinese living in the city are becoming increasingly fearful.
Min, who moved to Hong Kong from the mainland in 1995 and now runs his own hedge fund, said the startling escalation in mayhem prompted him to tell his children not to speak Mandarin in public for fear they'll get beaten up in the Cantonese-speaking city…
"Employees are generally encouraged to not discuss this topic at work and to leave political opinions at home," said Benjamin Quinlan, chief executive officer of financial-services consultancy Quinlan & Associates…"
https://news.yahoo.com/fears-growing-among-mainland-chinese-122040653.html
More examples are shown in the article. Click the link to see all the details.
"NBA legend turned commentator Shaquille O'Neal is weighing in on the controversy brewing between the NBA and China, and it's clear he not impressed with players and coaches kowtowing to communists.
"As American people we do a lot of business in China, and they know and understand our values and we understand their values, and one of best values here in America is freedom of speech," Shaq said during TNT's pregame show to open up the NBA season…"
https://www.prisonplanet.com/shaq-chides-lebron-over-china-were-allowed-to-say-what-we-want-to-say.html
"Downtown Hong Kong becomes battleground as night falls"
* Police fire tear gas at start of protests
* Protesters head to Central, vandalising metro, buildings
* China's official Xinhua news agency among firms targeted
* Violence some of the worst in recent weeks (Adds Xinhua comment)
Police fired tear gas at black-clad protesters across Hong Kong on Saturday after they set fire to metro stations and vandalised buildings including China's official Xinhua news agency in some of the worst violence to hit the city in weeks.
http://news.trust.org/item/20191102104410-1hf26
"Riot police storm Hong Kong malls to thwart more protests"
"Riot police stormed several malls in Hong Kong on Sunday to thwart pro-democracy protests, though violence did break out when a knife-wielding man slashed several people and bit off part of the ear of a local pro-democracy politician. At least five people were injured, including two in critical condition, local media reported.
There were calls online urging protesters to gather in seven locations to sustain a push for political reform following a chaotic day of clashes with police on Saturday, as the anti-government movement shows no signs of letting up after nearly five months."
"China-backed site [hack] attacks HK democracy activists"
"Using Russia-based servers and promoted by powerful groups linked to China's ruling Communist Party, a sophisticated anonymous website is targeting Hong Kong pro-democracy figures — and there is almost no way to stop it.
From high-profile activists to journalists and lawmakers, about 200 people seen as supporting Hong Kong's protest movement have been "doxxed" — had their personal details posted online — by the site, HK Leaks, since it emerged in August…"
https://news.yahoo.com/bulletproof-china-backed-attacks-hk-democracy-activists-070013463.html
"Rioters armed with catapults & javelins destroy university campuses & metro stations, clashing with police"
"Protests in Hong Kong have reached new heights of violence, with bomb-throwing rioters seizing control of university campuses and pushing out police while authorities admit that the riot-ravaged city hangs by a thread.
Demonstrators armed to the teeth with molotov cocktails, javelins, and (in one case, at least) a chainsaw have seized control of the Chinese University of Hong Kong (CUHK), pushing riot police off the campus on Tuesday night and leaving a shocking amount of destruction in their wake…"
https://www.rt.com/news/473262-hongkong-riots-universities-police-violence/
"…University Clashes: Hong Kong Update"
"An intense day of clashes on Monday led to at least 260 arrests and around 100 people injured, including two critically. One man was shot by a police officer on Monday during the morning commute, while another was set on fire by protesters. Chief Executive Carrie Lam said last night the protesters wouldn't achieve their goals through violence…
https://news.yahoo.com/hong-kong-protesters-disrupt-morning-002847727.html
Hong Kong And Bolivia Connection
"With increasing speculation that the coup which ousted Evo Morales in Bolivia might be linked to the lithium contract the country signed with China, the government in Beijing is at a crossroads, and not just in Latin America…
China risks its friends, far and near, concluding that loyalty is a one-way street. Make a deal with China? Get overthrown. Stand up for China on the streets of Hong Kong? Get turned into a fireball.
This is not a good look for a super-power…"
https://www.rt.com/op-ed/473445-hong-kong-violence-bolivia/
"As Hong Kong descends into chaos, China mulls its options"
"A sharp escalation of violence in Hong Kong is once again raising the question of how China's central government will respond: Will it intervene, or allow the chaos to persist?…
"Beijing is hoping that the Hong Kong community will start blaming the protesters and support the restoration of order," said Jean-Pierre Cabestan, a political science professor at Hong Kong Baptist University…
Whereas Chinese authorities previously called the demonstrators "rioters" with behavior "close to terrorism," they are now calling them "murderers" and tying them more explicitly to terrorism. This label may presage more severe enforcement measures and impact how demonstrators are ultimately prosecuted…"
https://ph.news.yahoo.com/hong-kong-descends-chaos-china-015123212.html
"Hong Kong readies for more chaos as violence spreads citywide"
"Hong Kong prepared for more clashes on Wednesday as anti-government protesters paralysed parts of the Asian financial hub for a third day, with some transport links, schools and many businesses closing after an escalation of violence…
Protesters and police battled through the night at university campuses and other locations only hours after a senior police officer said the Chinese-ruled city had been pushed to the "brink of a total breakdown".
Police fired tear gas at protesters overnight in multiple locations as activists blocked roads, torched several vehicles, hurled petrol bombs at a police station and metro train and smashed up part of a shopping mall…"
http://news.trust.org/item/20191113012941-iptni
"After a squad of HK police officers earlier this week raided the campus of the Chinese University of Hong Kong, but purportedly found nothing, protesters accused them of unjustly harassing students, many of whom are simply trying to get through the semester. Just a day later, student protesters (the backbone of the increasingly radical movement) are openly making petrol bombs and have cordoned off their campuses, transforming them into literal staging grounds for the protest movement…"
"I'll Die For Hong Kong": Students Transform Campuses Into Armories As Protests Rage For 4th Straight Day
"Police accuse Hong Kong 'rioters' of turning university into 'weapons factory' as academic institutions cancel classes en masse"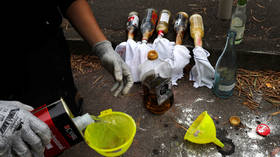 "Molotov-cocktail-wielding protesters have transformed a Hong Kong university into a weapons factory, according to police. Several local universities have canceled classes as they brace for more unrest on their campuses.
Armed with petrol bombs, javelins and other weapons, demonstrators seized control of the Chinese University of Hong Kong (CUHK) on Tuesday night.."
https://www.rt.com/news/473323-hong-kong-university-weapons-factory/
"Shocking VIDEO shows Hong Kong mob savagely beating woman with metal rods"
"A disturbing video shows a woman being surrounded and beaten by masked protesters in Hong Kong. The unsettling footage comes as authorities struggle to clamp down on worsening violence in the semi-autonomous city.
The assault was reportedly sparked by a political disagreement between the woman and a group of armed demonstrators. Video of the attack shows the woman trying to walk away, only to be thrown to the ground by one of the black-clad rioters…"
https://www.rt.com/news/473292-hong-kong-attack-woman-video/
"Burning rage: Hong Kong protesters set on fire by their OWN petrol bombs…"
"Several Hong Kong protesters have fallen victim to their own petrol bombs amid clashes with riot police. Disturbing videos show demonstrators engulfed in flames as their panicked comrades try to help.
Petrol bombs have become a key weapon in the demonstrators' arsenal, but the improvised incendiary devices don't always hit their intended target. One video appears to show a protester enveloped in flames, after a petrol bomb misfired. The activist falls to the ground as bystanders scream. Protesters rush to his aid as they try to put out the flames using umbrellas…"
https://www.rt.com/news/473758-hong-kong-protester-fire-video/
"…university campus stand-off between radicals and riot squad shows no sign of ending as thousands hit streets in bid to relieve police siege"
"The stand-off between radical protesters barricaded inside Hong Kong Polytechnic University and riot police threatening mass arrests continued without a solution into the early hours of Tuesday.
About 40 injured activists were allowed to leave the campus to get treatment, although they might still face charges later….  [Blogger Comment: LMAO what a deal.]
At nightfall, thousands of the radicals' supporters who gathered in Jordan and Tsim Sha Tsui tried to relieve the police siege by force. They battled riot officers in the bustling streets of central Kowloon throughout the night, with tear gas and petrol bombs exchanged at rapid intervals…"
https://www.scmp.com/news/hong-kong/politics/article/3038309/hong-kong-protests-university-campus-stand-between-radicals?utm_source=wnd&utm_medium=wnd&utm_campaign=syndicated
"With no 2nd Amendment, Hong Kong residents face live ammo armed with bows and arrows"
"…Officers confronted protesters with the threat of deadly live ammunition as activists holed up inside Hong Kong Polytechnic University, NPR reported Tuesday. This isn't the first time bullets have been fired by Hong Kong police during the protests…
Facing a foe with superior technology and armaments, protesters are now forced to get creative. Javelins and arrows, taken from sporting goods stores, universities or private collections, are now being distributed by some protesters as confrontations with police escalate…
The suggestion is, basically, to turn journalism into a public relations operation where a compliant media actually colludes with the military to give the unquestioning public a version of the news that omits uncomfortable details, even when they're both true and non-secret…"
With no 2nd Amendment, Hong Kong residents face live ammo armed with bows and arrows